Welcome to myORBi
Identify yourself with your ULiège/CHU id (Uxxxx, Cxxxx, Sxxxx). You must have a valid ULiège email.
On your MyORBi dashboard, pending tasks are displayed and can be accessed instantly . You can see your most recently added publications, begin a new submission or access your personal statistics.
The MyORBi menu is located in the upper right corner of the screen. Click on your name to bring it up and access all myORBi features:
MyORBi: myORBi homepage
My Unfinished deposits: References to finalise (in progress, to validate, to sign...)
My Publications : List of your publications in search format
My Reports: export a publications list
My Statistics: your personnal statistics only
My Profile: manage profile, add your ORCID, choose a representative
My Copy request: management of reprints
Adding publications
There are several ways to add a publication in ORBi:
You will then need to check and complete the reference information and add the full text before validating the reference.
How to create an import file
Pubmed
You can export one or more publications from a search result or from the detailed view of a publication by clicking on the button

Then select the "Pubmed" format then click on "Create file"

The file created can be imported directly into ORBi via the options for adding references.
Scopus
You can export one or more publications by clicking on the "Export" button:
from a detailed reference

from a search result

Then select the CSV format and check all the column headers to get all the data exportable from Scopus

Finally click on "Export" to download and save the file.
Arxiv via NASA/ADS
Do your search on NASA/ADS and select the reference(s) you wish to export. Be careful, if one of your references contains a large number of authors it is better to import it alone.
In the export function, choose the "Endnote" format and save the file created.
Other sources
You can import all your reference files in standard BibteX or RIS formats into ORBi. These formats are offered by all the major bibliographic databases and other reference management tools such as Arxiv (via NASA ADS), Google Scholar, Endnote, Zotero...
Note that the ORBi import tool has been developed according to the standard format. However, there may be great variability in the way the data is encoded. It is therefore possible that the importation does not always give the expected results.
Modifying publications
It is possible to modify a publication by clicking on the button

Via MyORBi and the page with all your publications
Via the detailed reference if you are logged in
A copy of the reference is created to which you make your changes. It is then imperative to validate this copy so that it replaces the archived reference.
The references must be modified directly or at the latest during the day. The copies will not be kept beyond that.
Generate your list of publications
ULiège members can generate publication lists from their MyORBi. They can contain:
Their own publications (this is the default option)
The publications of several authors
The publications of a department or research unit
a subset of publications defined through a search
These lists can be customised according to your needs (year range, type of document, keywords) and can be exported in multiple formats.
Publication report templates are available:
Faculty templates that fit the research discipline and the evaluation criteria of the faculties concerned
FRS-FNRS template
Share your list of publications with a URL
In ORBi you can obtain a URL that leads to your list of publications. Here are two complementary methods :
1. Your publication list formatted according to our faculty models
From MyOrbi > My reports : select filters, model and sort order then choose Html output. Generate your report. This opens in a new web browser tab. Copy-paste its URL.
This method allows you to share a structured list of publications with a maximum of filtering, sorting and index combination possibilities.
2. Your ORBi profile page
From MyOrbi > My profile : click on "View profile page". This opens in a new web browser tab. Copy-paste its URL.
With this method you share your list of publications and gives the possibility of launching a search via a dedicated button. In addition you have various information such as your ORCID, your main areas of research, your most used keywords, your main co-authors, some links to your social networks and to the ULiège directory.
In addition to these two possibilities, you can obtain, via the MyOrbi > My Widgets menu, other URLs which will allow you to integrate your list of publications in a website.
Personalise your profile
You can personalise your ORBi profile and add certain information. Make sure to always validate your modifications by clicking on the button

In addition to your basic information, you can display on your profile:
Your ORCID and link it to your myORBi profile Learn +
Data from the ULiège phonebook. To do this you must check the box "I agree that the above data will be displayed in my profile page" then click on the button "Update"
Your list of publications according to a predefined display template. Choose the desired model from the drop-down list and update your profile.
Recover your photo and various information in ORBi from MyULiège
From MyOrbi > My profile > Check "I accept that the data coming from my MyULiège profile will be displayed on ORBi" then click on "Update Profile". ORBi will then display the information it has retrieved from your MyULiège profile.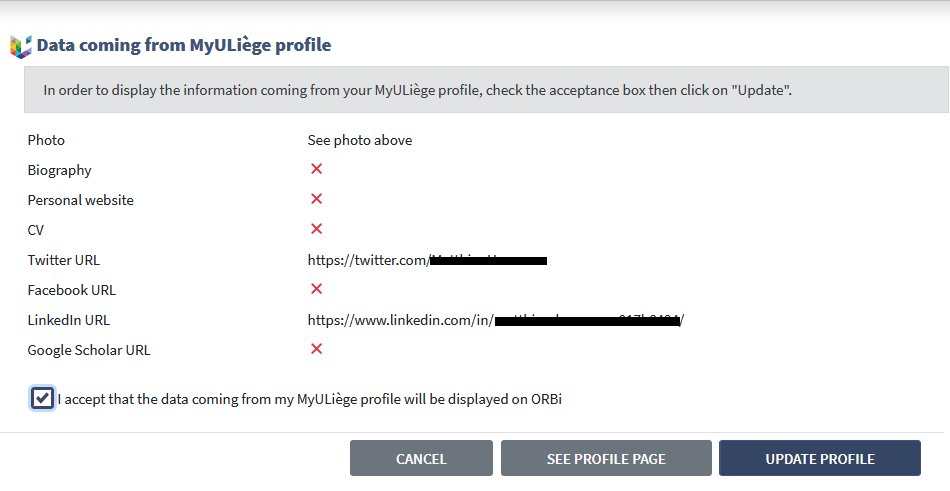 To add other information or if your photo has not been recovered, go to https://my.uliege.be > Staff > Edit my profile. You will be able to:
add a biography or a personal website for example by clicking on the "+" button.
modify the visibility of each element including your photo (to allow orbi to retrieve it you must check the "Internet" visibility).
Don't forget to return to your ORBi profile page to click on "Update".
Choose a representative
Identify yourself as a representative
Link your ORCID to MyORBi
What is an ORCID?
The Open Researcher & Contributor ID (ORCID) is a unique identifier for authors of scientific publications. It makes it possible to clearly identify a researcher, to link him to his publications and to solve problems of disambiguation. Learn +
Create your ORCID
If you don't already have one: create your ORCID now in less than one minute.
Connect your ORCID to MyORBi
With only a few clicks, link myORBi to ORCID and choose the authorisations you wish to assign to us.
By giving ORBi permission to link with your ORCID, you will allow us to:
register and display your login
link ORBI information with ORCID information
automatically push your membership into ORCID
You can also link your ORCID with publisher manuscript submission systems and funding application systems that use it.
You stay in control!
At any given time, you and you alone decide who can access your data and to what extent.
Each piece of information, regardless of the others, can be public, private or accessible only to "trusted parties", i.e. organisations and persons that you have defined as such. The trusted parties and organisations can be managed in your account settings. All given permissions can easily be revoked.