Personalise your profile
You can personalise your ORBi profile and add certain information. Make sure to always validate your modifications by clicking on the button

In addition to your basic information, you can display on your profile:
Your ORCID and link it to your myORBi profile Learn +
Data from the ULiège phonebook. To do this you must check the box "I agree that the above data will be displayed in my profile page" then click on the button "Update"
Your list of publications according to a predefined display template. Choose the desired model from the drop-down list and update your profile.
Recover your photo and various information in ORBi from MyULiège
From MyOrbi > My profile > Check "I accept that the data coming from my MyULiège profile will be displayed on ORBi" then click on "Update Profile". ORBi will then display the information it has retrieved from your MyULiège profile.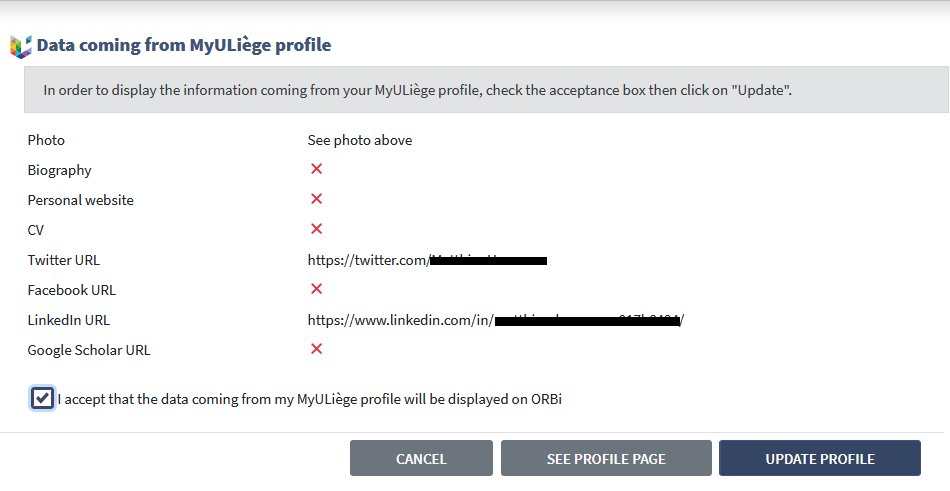 To add other information or if your photo has not been recovered, go to https://my.uliege.be > Staff > Edit my profile. You will be able to:
add a biography or a personal website for example by clicking on the "+" button.
modify the visibility of each element including your photo (to allow orbi to retrieve it you must check the "Internet" visibility).
Don't forget to return to your ORBi profile page to click on "Update".
Choose a representative
Identify yourself as a representative
Link your ORCID to MyORBi
What is an ORCID?
The Open Researcher & Contributor ID (ORCID) is a unique identifier for authors of scientific publications. It makes it possible to clearly identify a researcher, to link him to his publications and to solve problems of disambiguation. Learn +
Create your ORCID
If you don't already have one: create your ORCID now in less than one minute.
Connect your ORCID to MyORBi
With only a few clicks, link myORBi to ORCID and choose the authorisations you wish to assign to us.
By giving ORBi permission to link with your ORCID, you will allow us to:
register and display your login
link ORBI information with ORCID information
automatically push your membership into ORCID
You can also link your ORCID with publisher manuscript submission systems and funding application systems that use it.
You stay in control!
At any given time, you and you alone decide who can access your data and to what extent.
Each piece of information, regardless of the others, can be public, private or accessible only to "trusted parties", i.e. organisations and persons that you have defined as such. The trusted parties and organisations can be managed in your account settings. All given permissions can easily be revoked.